ABOUT TNK FARMS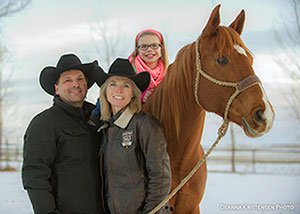 TNK Farms was established over a decade ago with the intention of breeding and training top barrel horses with the help and support of my husband Tony and daughter Kate.

In the spring and summer months you will find us on our quarter section 6 miles north of Taber. This is where we foal out, raise and train our horses. The majority of the training is done in the field with a limited amount of arena time and barrel work. We find that it is more beneficial to our horses if we train this way.

In the winter months, we head down to Maricopa, AZ, where there are many different training options including: out in the field, arena, chasing cattle and barrel work, but the majority of our time is spent out in the desert.
NANCY CSABAY - Professional Barrel & Trainer
Accomplishments:

*

Two time Canadian Champion Barrel Racer (2015-2016)
* Owner of Little Miss Wicked - 2015 Canadian Barrel Racing Horse With the Most Heart
* 2014 Pro Rodeo Canada Cowgirl of the Year
* 2011 Canadian High-Point Derby Champion


*

7 time CFR Qualifier (2001, 2003, 2012-16 on 3 different horses, which I trained)


*

2x BFA Derby finalist on 2 different horses


*

Battle River Derby winner, Melville Futurity winner,


*

Multiple Futurity/Derby Finalist


*

Multiple rodeo winner in Canada & U.S.


*

Chinook Rodeo Finals Qualifier in 1997


*

National High School Rodeo Qualifier
Background:
Dad - Arnold Haraga - Canadian SW and All-Around Champion
Mom - Kaye Haraga - Miss Rodeo Canada

My Dad had me on a horse before I could walk. I learned to ride with my Dad's bareback riggin' and sheep skin on a quarter/welsh cross pony named "Sissy". If there were any slough holes around, she would roll in them, especially if I was on her back! So I learned early on that I had to be tough.

As a family, we really liked going to rodeos. It was a way of life for us Haraga's. While my Dad rodeoed in the US, if we were driving by a racetrack, we had to stop to look at any prospects. He liked horses with speed, but they had to have a good mind as well. Needless to say, he bought the majority of his horses off the track. When he wasn't training them to be bulldogging or calf horses, I would hop on them and train them for the barrels. We always had to train our own horses. I have made a lot of mistakes along the way, but I've learned a lot from those mistakes. It has definitely helped me to become the trainer I am today.