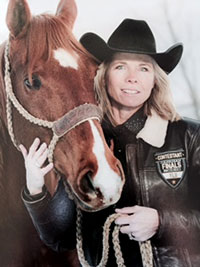 Training the young horse to a seasoned horse is what I'm passionate about, but I've found out that the horse is only part of the equation - the rider is as equally important as the horse.

At the Retreats, we will focus on ourselves and you will learn what works for me. Yoga has been an integral part of my program. I find it keeps me in the moment and helps me to focus on my breath. We will practice yoga both days, taught by a certified yoga instructor. A daily spiritual practice is of utmost importance to me. I'll show you what I do to keep me on track to living life to it's fullest.

The Retreat is a time to be mindful, not only for yourselves and your horse, but also for the others attending the Retreat. It is a non-judgmental atmosphere where we can learn from others, support fellow barrel racers, and gain new friendships.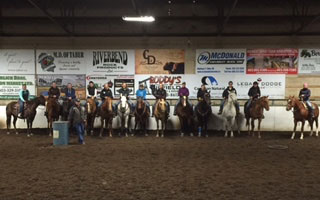 Because I love to barrel race and train horses, I have incorporated my approach into the retreat, but it is not the focus... you are. Barrel racing is the bonus to the Retreat. I find barrel racing is the easy part - who can go around 3 barrels the fastest. It's simple, really, but we tend to complicate it.

I will show you my program from training a young horse to keeping a seasoned horse going. We will be clear and precise, while also keeping it fun for your horse. I will touch on not only training and keeping your horse healthy and happy, but most importantly, the mental, physical, and emotional aspects of our lives and how it affects our barrel racing.
I want to change the barrel racing world which is currently full of judgement, to an environment full of love, kindness and forgiveness. I want this to be a movement, a shift, a better way to live... and I'd love for you to be a part of it.


Refund Policy/Schedule:
1. if the participant can find someone to take their spot, then they take care of transferring funds between themselves; there is no involvement with us other than getting info about the new participant.
2. 8 weeks prior to retreat: $450 refund, we keep $75 and we find someone to fill their spot
3. 8 weeks - 4 weeks to retreat: $250 refund, we keep $275 and find someone to fill their spot
4. 4 weeks- 2 weeks to retreat: $150 refund, we keep $375 and find someone to fill their spot
5. 2 weeks to retreat date: no refund, we keep $525 and try to fill spot
ADULT RETREATS
- Age 17 yrs and up
- Maximum 12 participants
- $525 tuition
- Includes breakfast & lunch
- Includes 1 hour yoga training both days
- Potluck Sat night
Schedule
Fri 6:00 pm -10:00 pm
Sat 9:00 am – 5:00 pm
Sun 9:00 am – 4:00 pm
Fee
The fee for each Retreat is $525, no deposit. Once you register, we will contact you with regard to payment.
* Payment must be received within 48 hours via either Paypal or etransfer

KID'S RETREAT
- Age 12-16 yrs old
- $100 tuition includes breakfast and lunch as well as any activites such as swimming, crafts
- Kid's Retreat Application deadline is May 30
... more information here